San Jose Apostille Service

California legalization of documents.

Payment check, credit card

$70/Apostille when ordering 3 or more.  1 Apostille $90

Certificate of birth, divorce, death, marriage, etc have to be signed by a county clerck

Sergio Musetti, 3323 Watt Ave, #188, Sacramento, CA 95821

We receive requiests by email, fax, mail from other states and countries to legalize California original documents. 

We notarize our certifications

You receive a personal service

Expedite/rush service: We can process your Apostille and send it back to you THE SAME DAY.   Request it when you call or specify it in the Apostille Request Form.

If we send through Fedex, you will receive an email when the documents are shipped and another one when delivered.

Documents can also be sent back by USPS

Call us if you need a Notary Public to notarize your document before it can be apostilled or if you have any questions.


Servicio de Apostilla

Legalizamos sus documentos originales de California el mismo dia que los recibimos.

Traducimos, certificamos y notarizamos, obtenemos la Apostilla y finalmente enviamos sus documentos legalizados a su direccion en Estados Unidos, Mexico o cualquier otro pais a traves de Fedex.

El pago se puede hacer por cheque o tarjeta de credito

$100 el primer documento, $90  cada adicional documento

Los documentos para apostillar se mandaran a: Sergio Musetti, 3323 Watt Ave, #188, Sacramento, CA 95821

Si necesita a notariar, notarizar un documento para Apostillar en su oficina por favor llamenos.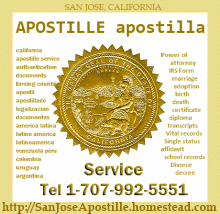 San Jose Apostille service, Spanish Translation, California legalization of documents, certifications, birth certificate apostille, marriage certificate apostille, death certificate apostille, divorce certificate apostille, san jose apostille certificates service,

San Jose, Apostille also cover these areas:

Alum Rock,

Cambrian Park,

Willow Glen,

East San Jose, and

Alviso

Campbell

Cupertino

Gilroy

Los Altos

Los Altos Hills

Los Gatos

Milpitas

Monte Sereno

Morgan Hill

Mountain View

Palo Alto

Santa Clara

Saratoga

Sunnyvale

Unincorporated communities[edit]

Census-designated places[edit]

Alum Rock

Burbank

Cambrian Park

East Foothills

Fruitdale

Lexington Hills

Llagas-Uvas

Loyola also known as Loyola Corners

San Martin

Stanford

Other unincorporated communities[edit]

Bell Station, also known as Bell's Station and Hollenbeck's Station.

Casa Loma, also known as Loma Chiquita, part of Llagas-Uvas CDP

Chemeketa Park, part of Lexington Hills CDP

Coyote, also known as Burnett c. 1860–1882

Madrone, now part of Morgan Hill

Redwood Estates, part of Lexington Hills CDP

Rucker

San Antonio, also known as Deforest c. 1892–1924

Sveadal, part of Llagas-Uvas CDP

Call us for free click below: